A Kind of Paradise (Hardcover)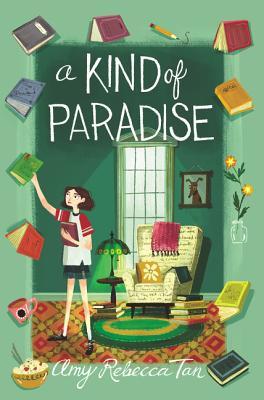 Description
---
Read the book that Ali Standish (author of The Ethan I Was Before) calls "a heartwarming story" and Melissa Roske (author of Kat Greene Comes Clean) calls "a joyful, heartfelt debut!"
Thirteen-year-old Jamie Bunn made a mistake at the end of the school year. A big one. And every kid in her middle school knows all about it. Now she has to spend her summer vacation volunteering at the local library—as punishment. What a waste of a summer!
Or so she thinks.
A Kind of Paradise is an unforgettable story about the power of community, the power of the library, and the power of forgiveness.
About the Author
---
Amy Rebecca Tan has worked as a babysitter, a waitress, a camp counselor, a tea seller, a muffin delivery person, a barista, and a bookbinder. She currently works in a public library and an independent bookstore. She has a master's degree in special education and has taught in the New York City school system. Amy lives in New Jersey with her husband, two children, and dog.
Praise For…
---
"[A] heartwarming story of redemption, and a celebration of the power communities have to lift us up, help us heal, and shape our dreams."
— Ali Standish, author of The Ethan I Was Before

"An unforgettable tale of friendship, self-acceptance, and the redemptive power of forgiveness—all found within the walls of a quirky, small-town library. A joyful, heartfelt debut!"
— Melissa Roske, author of Kat Greene Comes Clean

"If I wasn't already madly in love with that sacred space known as The Public Library, I would be after reading this celebration of the lives of those who enter its open doors and leave changed forever."
— —Wendy Mass, NYT bestselling author of Jeremy Fink and the Meaning of Life

"A warm homage to libraries, the people who work in them, and their power to affect people's lives....A charming book."
— Kirkus Reviews

"This middle-grade debut is a heartfelt but quiet love letter to libraries, and a book for book-lovers."
— ALA Booklist

"A good-natured debut that will appeal to young lovers of books and libraries."
— Publishers Weekly